TCI tricone bit IADC437 12 1/4″ (311mm) for well drilling
Product Detail
Related Video
Catalog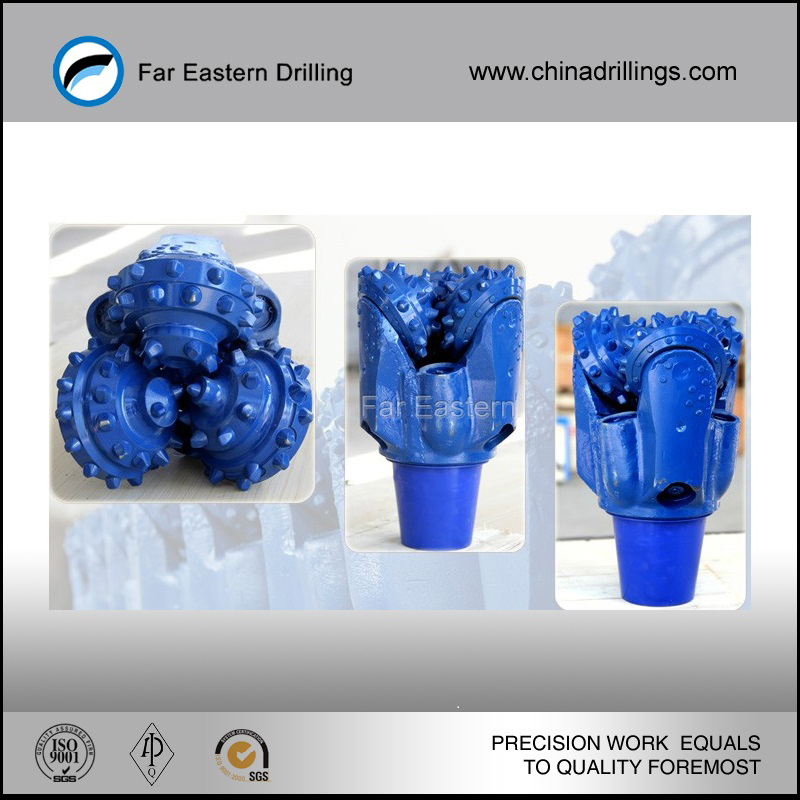 TCI Tricone Drill Bit IADC437 12 1/4 inches (311mm) is for water well.
Bit Description:
IADC: 437 - TCI journal sealed bearing bit with gauge protection for soft formations with low compressive strength and high drillability.
Compressive Strength:
65 - 85 MPA
9,000 - 12,000 PSI
Ground Description:
Long intervals of very soft poorly compacted shales, dolomites, sandstones, clays, salts and limestones.
Far Eastern Drilling can offer tricone drill bits in a variety of sizes (from 3 7/8" to 26") and most of IADC Codes.
Far Eastern are factory specializes in drill bits,such as tricone bits, PDC bits, HDD hole opener,Foundation roller cutters for water well, oil field, gas well,mining,construction, geothermal, directional boring, and underground foundation work all over the world. Our purpose is to sell the high quality products at the lowest possible price.
Tungsten Carbide Insert bit IADC437 12 1/4 inches (311mm) is for soft and medium formation.
The medium formation TCI tricone bits features aggressive chisel tungsten carbide inserts on the heel rows and inner rows. This design provides a fast drilling rate and added cutting structure durability in medium to medium hard formations. The HSN rubber O-ring provides adequate sealing for bearing durability.
(1) Cutting Structure of TCI series tricone rock bit :
The durability of premium tungsten carbide inserts is improved with new formulas and new techniques for insert bit.The wear-resistance of teeth is enhanced with premium tungsten carbide hardfacing on the tooth surfaces for steel tooth bit.
(2) Gauge Structure of this series tricone rock bit :
Multiple gauge protection with gauge trimmers on heel and gauge inserts on the gauge surface of the cone, tungsten carbide inserts and hardfacing on the shirttail increases gauge holding capability and bearing life.
(3)Bearing Structure of this series tricone rock bit :
High precision bearing with two thrust faces. Balls lock the cone.Hardface heard bearing surface. Cone bearing inlaid with friction-reducing alloy and then silver-plated. Abrasion resistance and seizure resistance of the bearing are improved and suitable for high rotary speed.

Basical Specification

Size of Rock Bit

12.25 inches

311.10 mm

Bit Type

TCI Tricone Bit

Thread Connection

6 5/8 API REG PIN

IADC Code

IADC 437G

Bearing Type

Journal Sealed Bearing with Gauge Protection

Bearing Seal

Elastomer/Rubber

Heel Protection

Available

Shirttail Protection

Available

Circulation Type

Mud Circulation

Drilling Condition

Rotary drilling,high temp drilling,deep drilling,motor drilling

Total Teeth Count

92

Gage Row Teeth Count

41

Number of Gage Rows

3

Number of  Inner Rows

7

Jounal Angle

33°

Offset

9.5

Operating Parameters

WOB (Weight On Bit)

24,492-71,904 lbs

109-320KN

RPM(r/min)

300~60

Recommended upper torque

37.93-49.3KN.M

Formation

Soft formation of low crushing resistance and high drillability.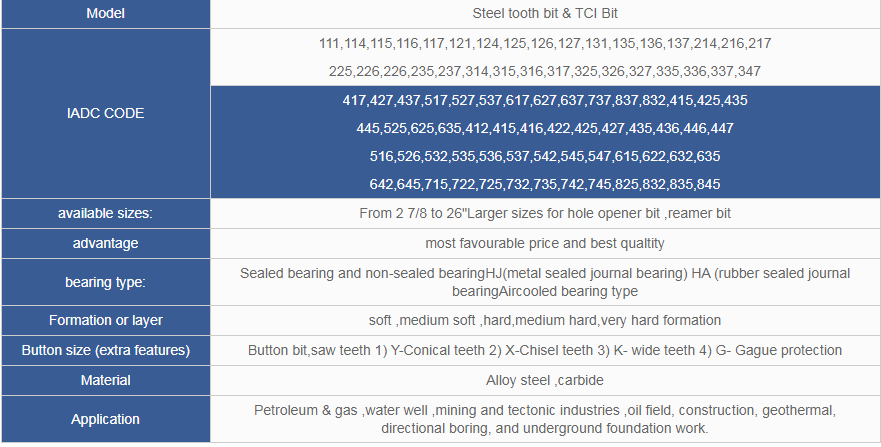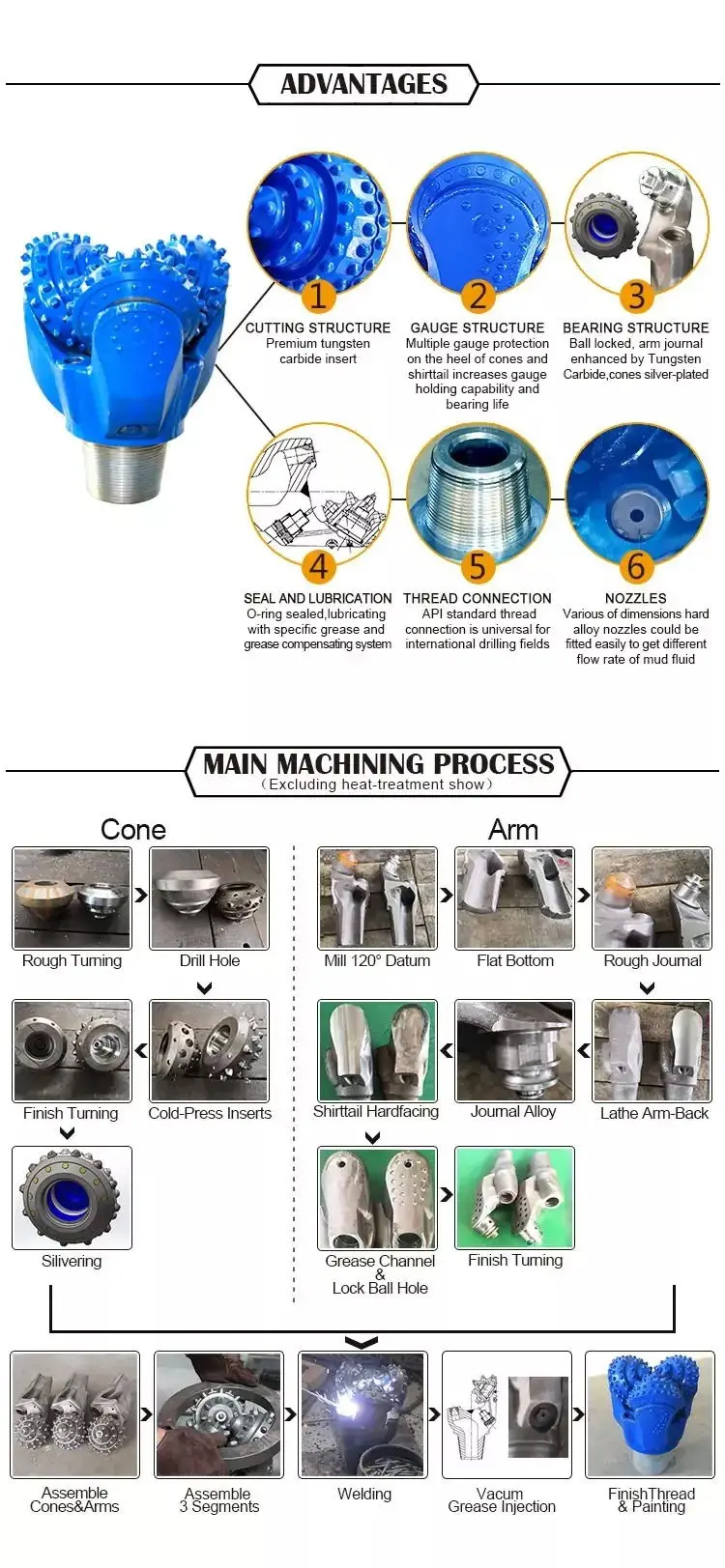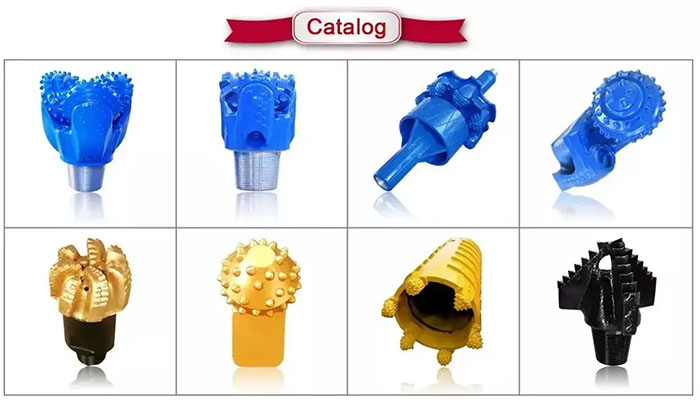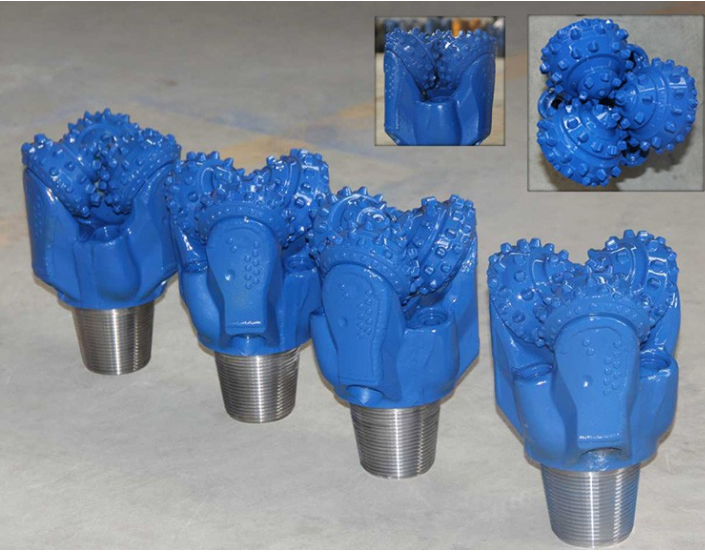 ---
---